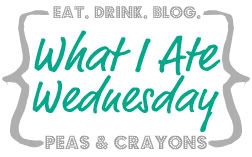 It's that TIME again!!!
TOOL TIME!
Lol, I had to – I used to be a huge Home Improvement fan… or maybe just a "JTT" fan!
It's actually 'What I Ate' Wednesday time!! 
This edition of WIAW is another little glimpse into the nutrition on my current challenge eating plan! We just completed Month 1 of our 3-Month challenge and I can't believe how fast that month flew by!
Although the scale hasn't changed much for me (a couple lbs loss – but weight loss isn't my aim), I'm losing inches and changing my body composition, which is great! I am though, and I will explain a little further in this post, struggling a bit with my eating. 
So here goes – this WIAW was from last week! I started the day with my usual – egg white omelet and oatmeal with berries! 
Depending if it's a cardio day or a training day for me, the quantities in this meal will change. This day was training so it was a bit smaller than on my cardio day!
I had:
1/2 cup + 2 tablespoons egg whites (cooked into an omelet and seasoned w/ s+p and fresh dill!)
30g instant oats w/ 1 tablespoon pumpkin puree, cinnamon, pumpkin pie spice, and 40g of raspberries
I LOVE mixing pumpkin puree into my oats right now – it's SO tasty! Mmmm!  
Not too long after breakfast I made my way to the gym!
My training sessions last about an hour which is great – it's in-and-out quick and no lolly-gagging!
My training sessions are pretty intense and they really get my heart rate going too, as I do tri-plexes and supersets, so it's almost like a little cardio too and I know I'm getting a great calorie burn!
After the gym I made up this AMAZING post-workout smoothie – loaded with carbs for my muscles to soak up!
I made a half portion of my Pumpkin Pie Protein Smoothie, and then I made a Chocolate Banana Protein smoothie… and then….yep… I did it… I layered them!
Then, on top – berries!
The specs for this delicious smoothie creation were as follows:
1/2  scoop NCN whey vanilla isolate with 30g frozen banana, 20g pumpkin puree, 30g pineapple, and 50g frozen peaches, 4 cubes ice, 2 tablespoons unsweetened almond milk – blended up…
then 1/2 scoop NCN chocolate isolate with 30g frozen banana, 60g frozen peaches, 4 cubes ice, 2 tablespoons unsweetened almond milk – blended up…
Layer both smoothie flavors….
Top with 20g berry blend!
Voila! 
For lunch I met my Mom and sister at Moxies!
I REALLY wanted to make sure I stayed within my macros so I ordered the Asian Chopped Salad and modified it to fit!
Regularly – this salad is 470 calories/27g fat/29g carb/32g protein.
I modified it by getting the dressing on the side (I had about 1/2 teaspoon with my salad although I didn't really feel I even needed dressing on the salad – it was great without!), and asked for no wontons or sesame seeds!
This cut down on the carbs and fats big time! I kept the edamame beans and asked how much there was (2 ounces) as well as how many ounces of chicken there was on the salad (4 ounces).
 With my modifications the salad was: 257 calories/7g fat/16g carb/32g protein! Which fit into my needs a lot better, and it still tasted great, and I was happy with my lunch! (I used My Fitness Pal to figure out the nutritional info!)
Later that afternoon I whipped up this quick snack!
I mixed together:
3/4 cup plain 0% fat Greek yogurt
1 tablespoon PB2 powder
and topped it with:
1 1/2 tabespoons natural peanut butter 
40g blackberries
A delicious little peanut buttery, fruity yogurt bowl!
I pretty much have this snack, or something very similar every day - I just don't get sick of it! So yummy!
For dinner I made a bit of a hodge-podge bowl of stuff! I like to call it a "hash' because I mixed in sweet potatoes!
I cooked up some lean ground turkey breast (4 ounces), and added some green beans (100g) and mushrooms (50g), then threw in some baked sweet potatoes (75g). I topped it with 1/2 tablespoon feta cheese and a couple dollops of Dijon mustard!
I used garlic salt, onion powder, and some italian seasoning to flavor it all and it actually turned out great! 
Sometimes just a random mix of 'what you've got' turns out SO well! I love these little hodge-podge dinners! 
(yes, I'll admit, it doesn't look that appetizing, but trust me, IT WAS!) 
And that was it for the day!
….well… not actually – I also snuck in 1/2 of an Apple Pie Energy ball and about 1/2 cup grapes!
This is where I'm struggling in our challenge – (OK – first of all, I KNOW that 1/2 of an energy ball and a 1/2 cup of grapes isn't 'bad' or a 'cheat' or 'unhealthy') I seem to be snacking EXTRA, outside of my set macros! 
I keep finding myself in the fridge grabbing some grapes, a few slices of apple, a handful of trail mix, or extra peanut butter… etc. And I'm starting to think it's because on this new plan, my calories are quite a bit lower than I'm used to – either it's mental, and I just 'feel' I need more, or it's physical, and I really DO! 
Either way, I've decided to be up front and honest and talk to my trainer about it – there's no sense in pretending it's not happening. So we will see – she might bring up my calories, and that would solve the problem, or we can come up with some solutions together. 
I'll keep ya posted!
So, anywho – with my little 'extras' here was my stats for the day as per My Fitness Pal!
1,374 calories
133g carbs
37g fat
140g protein
31g fiber
I hope you've all enjoyed this edition of WIAW!
Stay tuned to the blog this Friday! I'm guest posting for North Coast Naturals and it's a recipe you DO NOT want to miss! :) 
Christal
Nutritionist in the Kitch