May 29, 2013
Breakfast, Dairy Free, Desserts, Dinner, Gluten Free, Lunch, Seafood, Smoothies/Shakes, Snacks, What I Ate Wednesday
Add comments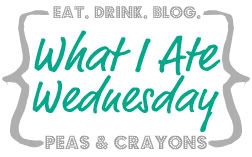 Yipee!
It's another edition of 'What I Ate' Wednesday!
Let's all look at what I devoured in a random day the other week!
First of all. If you are a Facebook follower of Nutritionist in the Kitch, you would have seen how I've been playing around with my protein pancake recipes a lot lately! I've had a ton of great suggestions on what to do about the dryness that sometimes occurs with coconut flour, so I think… I just think, I've got it figured out with these ones!
For breakfast I had a HUGE stack of these PB & J Coconut Flour Pancakes.  
Seriously, the fact that I actually got to eat ALL of these pancakes, and my breakfast was still in my ideal calorie and macro range was pretty much Heaven to me.
If I haven't said it before, I LOVE BREAKFAST. It's my most favorite meal, and probably the first thing that pops into my head when my eyes open in the morning…. "FOOD.. breakfast… nowww."
These pancakes are a perfect combination of coconut flour, ground flaxseed, my favorite protein powder (in vanilla), egg whites,  unsweetened almond milk, vanilla extract, stevia, and raspberries! 
I cooked these fluffy pancakes of deliciousness up in the pan patiently (coconut flour pancakes need their sweet time), then I topped the stack with a dollop of natural peanut butter and my "jam", which was really heated and mashed raspberries mixed with some stevia.
Yum, yum, yum!! I love these pancakes! Pillowy, moist, light, airy, tasty, pancakes. SO yeah, that HUGE breakfast pancake stack.. less than 320 calories, more protein (33g!!) than carbs, and loaded with fiber…14g to be exact…(oh and that includes the peanut butter and jam topping too!) 
My kind of breakfast! 
The full recipe for the pancakes is at the bottom of this post!!
A few hours later it was time for my mid-morning snack/pre-workout smoothie. I blended up some delicious vanilla protein powder (North Coast Naturals!) with frozen peaches, almond milk, and tons of ice to make it nice and thick!
Super tasty and fast-digesting, which was perfect for pre-workout!
For lunch I made some quick, throw-together-what-I-have-left-in-the-fridge chicken, quinoa, Thai peanut lettuce wraps!
I mixed together red curry paste with some lime juice, peanut butter, rice vinegar, sesame oil, and water to make a "Thai Peanut Sauce". Then, in my wok I tossed in some mushrooms, cherry tomatoes, and already cooked chicken breast (leftovers), with the sauce and heated it all up until the mushrooms were cooked. I mixed in some cooked quinoa, and tossed it all into two big lettuce leaves, then sprinkled them with cilantro and a squeeze of lime juice!
Delicious, easy, and used up the leftovers… perfect! 
A few hours later… yep, you guessed it… I was hungry AGAIN, so I made myself some raspberry protein soft-serve. Pretty much the same thing as my morning smoothie, I just used raspberries instead of peaches!
This was the perfect afternoon snack, as it satisfied my craving for something sweet, was nice and cold for a hot day, and it gave me a boost of energy that I need to paint (we bought an old 1980′s trailer a few weeks ago and are renovating it!!). 
Dinner was barbecued salmon which I seasoned with fresh lemon, dill, Dijon mustard, and a tad of raw honey. I enjoyed the salmon with some grilled zucchini, and baked sweet potato.
Simple, delicious, and filling!
I always portion and measure out my food then pop it into My Fitness Pal to make sure I stay on track for the day with my portions. It's too easy to over-eat when I "eye" things out, so I just use my scale and it prevents me from over-eating and feeling too full!
I've trained my body to work off small, frequent, portioned meals throughout the day, which is awesome… the only problem is when I go out for dinner, I can only get through half my meal because I get stuffed so quickly! A blessing in disguise I guess!
A couple hours after dinner I was ready for my last meal of the day.
Yep, I eat 6 meals.. every day. 
I have been trying out this new protein powder for my evening snack, casein protein powder. Casein is  a much slower releasing form of protein than whey or rice/hemp/soy, which is intended to help build and repair muscle tissue while you sleep.
It makes one delicious protein mug cake, which I topped with almond butter, peaches, and raspberries. The mug cake is made of the casein protein powder, baking powder, almond milk, egg whites, and coconut flour. 
This little mug cake is delicious, but the ONLY drawback is I have yet to find a casein protein powder that does not have artificial sweeteners in it… not cool.
Hmmph. I will continue my search, as I really do enjoy this little mug cake, but I don't enjoy artificial flavors or sweeteners, at all.
If anyone has any recommended brands please do share with me!!  
And that was my day of eats!
Here's the breakdown of my calorie and macronutrient intake for this day as per My Fitness Pal.
Calories: 1,637
Carbs: 125 g
Fat: 41 g
Protein: 168 g
Since our challenge I have maintained my weight loss (I lost 11 lbs in total!) and the muscle tone that I developed. I try to eat as clean as possible most of the time and still have a once-a-week "indulgence meal", which is usually out at a restaurant!
I've been really getting the urge to do another challenge, just to keep pushing myself, and I would like to focus more on building lean muscle mass! So I just might, I think it's always good to keep setting new goals with your health and wellness, and keep pushing yourself to be your "best you"!
PB & J Coconut Flour Protein Pancakes (GF)
Ingredients
3 tablespoons coconut flour (21g)
1 tablespoon vanilla whey protein powder (10g) (you could use a vegan vanilla protein powder as well)
1 heaping tablespoon ground flaxseed (10g)
½ teaspoon baking powder
⅛ teaspoon salt
⅔ cup egg whites
¼ teaspoon pure vanilla extract
1 tablespoon unsweetened almond milk (or other milk of choice)
1 packet stevia (divided) (or 2 teaspoons of another sweetener of your choice)
½ cup frozen raspberries (65g) (divided)
1 tablespoon natural peanut butter
Instructions
In a large bowl combine the coconut flour, protein powder, flaxseed, baking powder, salt, and stevia (if using a liquid sweetener, wait and combine with the wet ingredients)
In a separate bowl combine the eggs, almond milk, and vanilla.
Adding small amounts at a time, combine the wet ingredients with the dry until all is incorporated.
Fold in half of the frozen raspberries and allow the batter to sit for 1 to 2 minutes.
Heat a non-stick skillet to medium heat (spray lightly with olive oil spray if needed)
Once heated, add in batter (about 2 tablespoons for each pancake).
Flip each pancake only when the edges are fully cooked (these pancakes take longer than the typical pancake, and will not flip until ready), cook for an additional 2 minutes on the opposite side.
While the pancakes are cooking, add the remaining raspberries to a small bowl and heat in the microwave for 45 seconds, once heated mash to make a sauce consistency, and stir in remaining stevia or other sweetener of choice.
Once all the pancakes are cooked, drizzle with peanut butter and mashed raspberry sauce.
Enjoy your huge delicious stack of pancakes.. guilt free! :)
Notes
I put the gram amount beside each ingredient as I find tablespoon measurements can sometimes vary.
Nutritional Information
Serving size:
entire recipe
Calories:
319 kcal
Fat:
9g
Carbohydrates:
25g
Sugar:
5g
Fiber:
14g
Protein:
33g
Have a great Wednesday!
Christal
Nutritionist in the Kitch